Recently, Vermuts Miró had the honor of hosting the players of the new Miró Reus Ganxets team from the Club Tenis Taula Ganxets, Reus at the facilities of Masergrup's new corporate headquarters. This event celebrated the team's qualification among the top 20 in Europe to play in the Champions League. Now the team has secured a spot to compete in the European League in the upcoming 2023/2024 season.
During the event, the Spanish national team players, Elvira Rad and Sara Ramírez, and Olympic Chilean player, Paulina Vega, held a table tennis exhibition in the recreation area of the company, along with members of Vermuts Miró, who also had the opportunity to participate.
The event was attended by Mr. Joan Carles Virgili, President of the Club Tenis Taula Ganxets de Reus, and Mr. Xavier Martínez and Mr. Pablo Garcia, President and CEO of Vermuts Miró, respectively.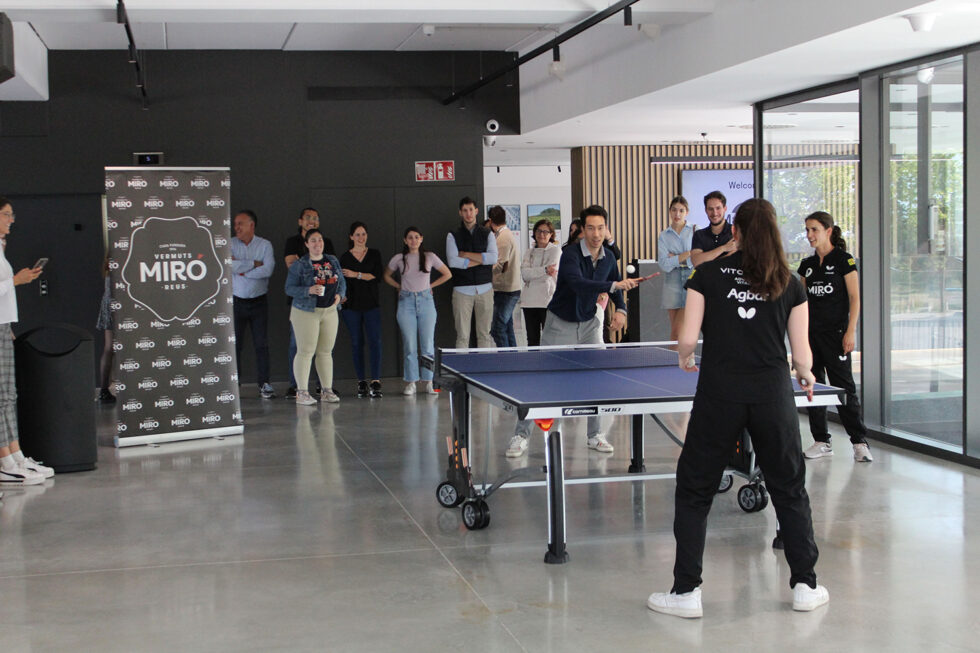 Vermuts Miró continues supporting sports
As a company committed to the values ​​that sports transmit, and reaffirms its commitment to supporting the different entities that make up the territory. Our company is pleased to highlight its collaboration with the Club Tennis Taula Ganxets de Reus, a sports organization that welcomes players of all ages, both amateurs and professionals, and has a team of qualified coaches and sparrings that are able to cover the different levels of training.
Through its commitment to sports and its support for local entities such as the Reus City Council, associations, and companies like Vermuts Miró, scholarships can be offered to children and young people interested in practicing this sport.
Vermuts Miró, with a century-old tradition, produces its products using traditional family methods while applying the latest technology throughout the production process. The wide range of Miró products has been recognized worldwide, and has succeeded in consolidating the brand both inside and outside the country.